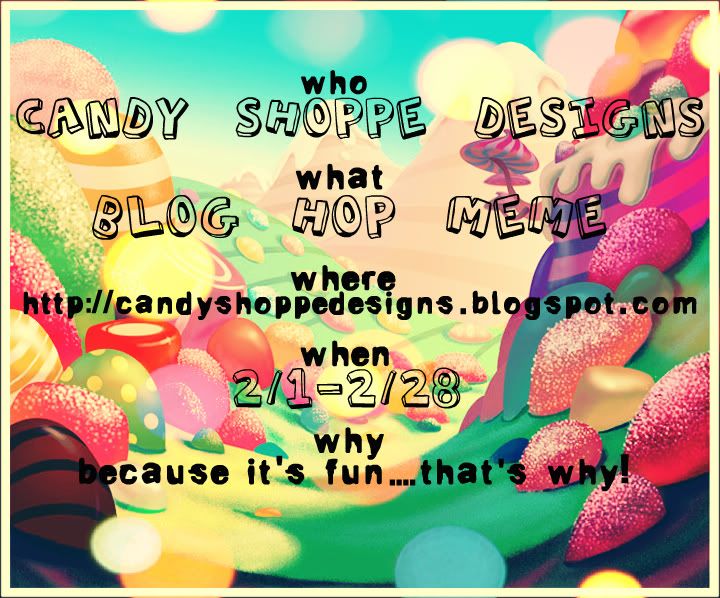 Hi Blog Friends!
Care to join me in this BLOG HOP MEME over at Candy Shoppe Designs? It's FUN, EASY and you'll have the chance at winning this fabulous prize from

The Paper Trail

.


Plus there will be a2nd prize added if there are more than25 participants (a lovely Kit fromCSD's Eye Candy Store), and a 3rd prize if there are more than 50 participants ( Scrapbook goodies valued at $25)! So Tell your friends to join in!
If you want to join in, start

HERE

.
Since I am a Design Team Member for Candy Shoppe Designs I am one of the Lollipop Girls you'll be visiting in the BLOG HOP MEME. Read on....
This is Rudy, our family pet for the last 15 years. She passed away at the beginning of the year and it was tough on us all. She was such a loyal pet always following my mom everywhere. I got her when I was 17 after losing my Dalmatian puppy Reno to Parvo. Her sweet little spirit got me out of that tough time, and I have many happy memories of her. She got Parvo too, but I slept in the bathroom with her (the only place I could clean with Clorox to kill the Parvo germs) and fed her scrambled eggs until she was better. My friend Michael used to chase her through my house yelling, scaring her so bad that she would pee when ever she saw him. My best friend in high school called her a Kitchen Rat, becuase she was always in the kitchen looking for handouts. When I was in college she gave birth under my bed... one little pup who as named Scruffy, he went home with another friend of mine where he entertained her family of 8. When I went away to University leaving Rudy was almost as hard as leaving my parents. But my mom took good care of her. I think she was "replacing me" with Rudy. LOL By the time I moved back 2 years later Rudy had gained my freshman 15 and then some... and a new love, my mom. When I moved out the following year I couldn't bear to separate the two of them, so I got another dog for my new house, but I visited Rudy & my parents almost every day. A couple of years ago her health started to decline and I was afraid we wouldn't have her much longer, but she was a tough old goat (or sheep as we liked to call her because she looked like one!) Those last few years she was the most spoiled dog you can imagine. One of my favorite memories of Rudy was when I brought home the class goldfish and she tried to catch them in the aquarium! Rudy was a dear sweet girl and we miss her very much
.
What was your favorite pet? Share those warm fuzzy memories!!
Follow my blog and leave a comment. Then head off to YOUR OWN BLOG and answer my question, not just 1 or 2 sentences. At least a paragraph! When you are done go back to
Candy Shoppe Designs
and link up your answer to the post there. Don't forget to visit the next Lollipop Girl:
Kristin Powell AKA Pumpkin Sue
and answer the next question.
In order to be eligible for the prize you only have to answer 3 of the questions!
You can answer them in ONE post or separate posts. Just be sure to link them to CSD!