3 years ago today I gave Josh a scrapbook that I made with a friend for him. I got to hand it to him...it was a particularly awesome moment. Here's a picture of that...*sigh*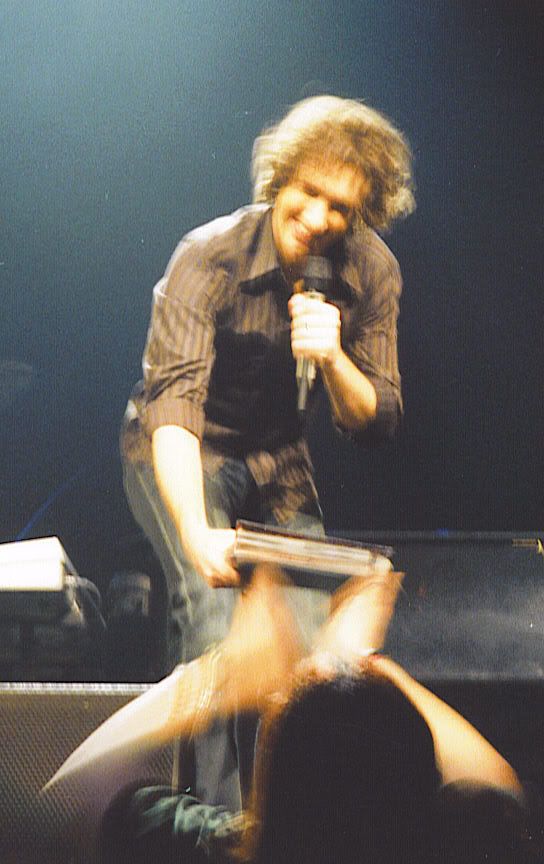 Today I played with my Bind It All for the first time... and made this little book. It's covered with fabric. The J is not affixed on there yet, but if I put Josh pics inside I will probbaly glue that on. Not sure if I like the way the J looks on there.
It was easy to do, but I screwed it up anyhow. First I didn't have the paper in all the way and punched my holes crooked. I just flipped it over and repunched those pages, no big..I covered the edges with red tape so it looks ok. Then I didn't think that my back cover had to be flipped backwards when I punched it to make the holes line up with the front cover... So I had to TAKE IT APART after I bound it to repunch those holes... hence the ribbon on the right side of the cover (thanks TaG for the idea..LOL). Anyway, despite my spazziness I like it. I'll probbaly decorate the inside of it later this week.
Question for you Bind It All users...when you punch the cover & the inside pages, there isn't an option for "continuous punching" that space is blocked... how do you make a bigger book then? Isn't that what the continuous punching thing is for?
I'm off to scrap one more page before bed... that picture above.
It's been sitting in my box waiting for the right moment. It's been 3 years. Now is the time.